O Overview Of Early Detection And Hypertension Prevention Efforts In Kayu Bawang Village In Community Health Center Gambut Work Area
Keywords:
Early Detection, Prevention, Hypertension
Abstract
Background : Hypertension is a health problem that is not only intense in the world, but also in Indonesia. Hypertension is also referred to as the silent killer, which is a deadly disease without any signs and symptoms first as a warning. The status of blood pressure will be higher as the function of the body's organs decreases. Hypertension is an abnormal increase in blood pressure which is the main cause of cardiovascular disease.
Objective: The purpose of this study was to describe the efforts of early detection of hypertension and prevention of hypertension in Kayu Bawang village in the working area of ​​Peat Public Health Center.
Method: This type of research is quantitative with a descriptive research design. The population in this study were 150 respondents and a sample of 150 respondents, using a total sampling technique.
Result: The results of this study are the results of measurements of systolic and diastolic blood pressure, the highest data is at Hypertension Level 1 (systolic 160-179 mmHg; diastolic 90-99 mmHg) as many as 46 respondents (30.7%). The results of early detection of hypertension with the highest data, namely being in early detection of hypertension is sufficient as many as 126 respondents (84%). The results of the prevention of hypertension with the highest data are in the prevention of hypertension enough as many as 120 respondents (80%).
Conclusion: Therefore, the public must be able to detect early and make efforts to prevent hypertension so that the blood pressure of people with hypertension can be controlled
Downloads
Download data is not yet available.
References
Asri, Mulyono, S., & Khasanah, U. (2020). Pengaruh Pelatihan Kader Posbindu Terhadap Perilaku Deteksi Dini Hipertensi Pada Usia Dewasa. Jurnal Kesehatan Panrita Husada. 5(1): 43-52.
Budi s. pikir. (2015). Hipertensi Manajemen Komprehensif. surabaya: Airlangga University Press (UAP).
Darmawan, D. (2013). Metode Penelitian Kuantitatif. Bandung: Cetakan Pertama Edited P.Latifah PT Remaja Produksi.
Dea Nur Aulia Dananda, R. (2016). Upacaya Pencegahan Hipertensi. alamat Jl. Bumi Jaya II No. 14 Bandar Lampung.
Dinas Kesehatan Provinsi Kalimantan Selatan (2022). Profil Dinas Kesehatan Provinsi Kalimantan Selatan Tahun 2019,2020,2021 : Kalimantan Selatan. (n.d.).
Endang Triyanto, S. N. (2014). Pelayanan Keperawatan Bagi Penderita Hipertensi secara terpadu. Yogyakarta: Graha Ilmu.
H Setiawan, S. E. (n.d.). Promosi Kesehatan Pencegahan Hipertensi Sejak Dini. Tasikmalaya: JURNAL ABDIMAS UMTAS LPPM – Universitas Muhammadiyah Tasikmalaya Volume: 1, Nomor: 2 E-ISSN: 2614-8544.
Hairil Akbar, F. (2020). Edukasi Upaya Pencegahan Hipertensi pada Masyarakat di Kecamatan Passi Barat Kabupaten Bolaang Mongondow. JPKMI (Jurnal Pengabdian Kepada Masyarakat Indonesia) Vol. 1, No. 3.
Hanim Mufarokhah, N. (2019). HIPERTENSI DAN INTERVENSI KEPERAWATAN. Srikaton puncangmiliran Tulung Klaten: Penerbit Lakeisha.
Hidayat, A. A. (2018). Metodelogi Penelitian Keperawatan Dan Kesehatan. Jakarta Selatan: selemban Medika.
Jumriani Ansar, I. A. ( 2019 ). DETERMINAN KEJADIAN HIPERTENSI PADA PENGUNJUNG POSBINDU DI WILAYAH KERJA PUSKESMAS BALLAPARANG KOTA MAKASSAR. Lembaga Penelitian dan Pengabdian Kepada Masyarakat Universitas Hasanuddin Volume 1. Edisi 3 ISSN: 2621-6507.
Noor Laila Sar, A. S. (2018). FAKTOR DETERMINAN KEJADIAN HIPERTENSI DI PUSKESMAS CEMPAKA BANJARMASIN. Banjarmasin.
Nur Aliyah Rangkuti, Y. (2019). DETEKSI DINI DAN UPAYA PENCEGAHAN PENYAKIT HIPERTENSIDI LEMBAGA PEMASYARAKATAN KLAS II BPADANGSIDIMPUAN TAHUN. Jurnal Pengabdian Masyarakat Aufa (JPMA) Volume 1 No. 1.
Sanly Rambu Kuba, A. K. (2021). UPAYA PROMOTIF PREVENTIF DAN PENGENDALIAN HIPERTENSI OLEH PUSKESMAS TEGALREJO KOTA SALATIGA. Jl. Kartini No.11 A, Salatiga 50714, Indonesia: Jurnal Ilmiah Ilmu Kesehatan Vol .9, No. 2,.
Sari, N. P. ( 2021). DETEKSI DINI DAN UPAYA PENINGKATAN KESADARAN DIRI PENDERITA HIPERTENSI UNTUK MEMANFAATKAN LAYANAN KESEHATAN KOMUNITAS. Surabaya Vol. 3 No. 2: Journal Homepage: http://ejurnal.poltekkestasikmalaya.ac.id/index.php/EMaSS/index.
Setiandari, E. (2022). Hubungan Pengetahuan, Pekerjaan dan Genetik (Riwayat Hipertensi dalam Keluarga) Terhadap Perilaku Pencegahan Penyakit Hipertensi. Media Publikasi Promosi Kesehatan Indonesia. 5(4): 457-462.
Sudiantara, K., Gama, I. K., & Swandewi, I. A. M. (2018). Sosiodemografi dengan Perilaku Pencegahan Stroke Pada Klien Hipertensi. Jurnal Gema Keperawatan. 11(1): 1-7.
Taiso, S. N., Sudayasa, I. P., & Paddo. J. (2021). Analisis Hubungan Sosiodemografis Dengan Kejadian Hipertensi di Wilayah Kerja Puskesmas Lasalepa, Kabupaten Muna. Nursing Care and Health Technology Journal. 1(2): 102-109.
Widodo, D. (2019). Metodologi Penelitian Popuer Dan Praktis. Depok: PT RajaGranfindo Persada.
Yunus, M., Aditya, I. W. C., & Eksa, D. R. (2021). HUBUNGAN USIA DAN JENIS KELAMIN DENGAN KEJADIAN HIPERTENSI DI PUSKESMAS HAJI PEMANGGILAN KECAMATAN ANAK TUHA KAB. LAMPUNG TENGAH. Jurnal Ilmu Kedokteran dan Kesehatan. 8(3): 229-239.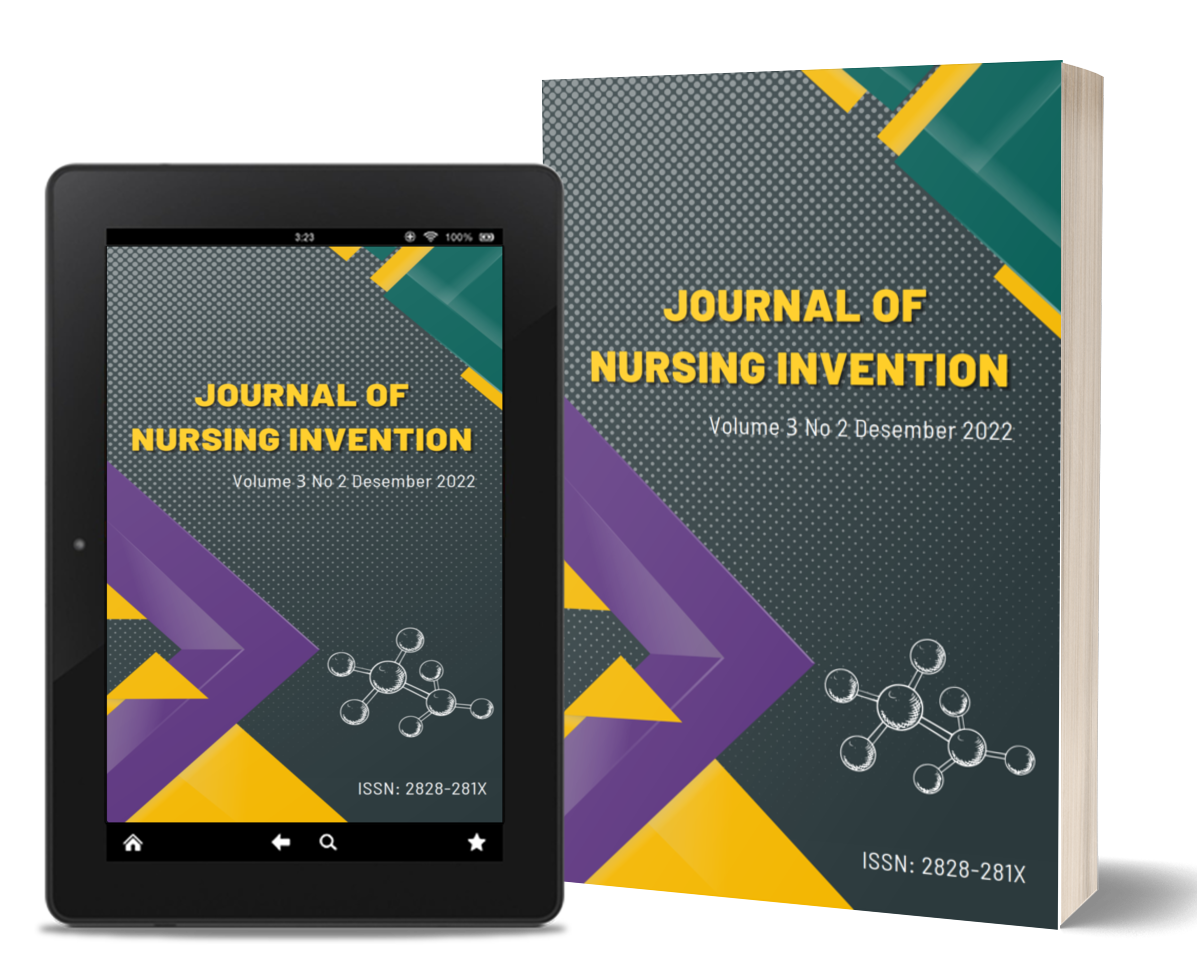 Downloads
How to Cite
harun, lukman, Lestari, M., & Hiryadi. (2023). O Overview Of Early Detection And Hypertension Prevention Efforts In Kayu Bawang Village In Community Health Center Gambut Work Area. Journal of Nursing Invention, 3(2), 131–138. https://doi.org/10.33859/jni.v3i2.278
License
Copyright (c) 2023 Journal of Nursing Invention E-ISSN 2828-481X
This work is licensed under a Creative Commons Attribution 4.0 International License.