Decrease in Lead Metal (Pb) Levels in Baung Fish with Kaffir Citrus (Citrus hystrix) Filtrate
Decrease in Lead Metal (Pb) Levels in Baung Fish with Kaffir Citrus (Citrus hystrix) Filtrate
Keywords:
Metal Lead (Pb), Baung Fish, Kaffir Lime, Atomic Absorption Spectrophotometry
Abstract
Background: Baung fish are fish that live a lot in fresh waters that have nutrients and protein. Baung fish are demersal fish that like to forage at the bottom of the waters that may be contaminated by heavy metals such as lead that settles on the bottom of the water. Lead is a substance that can pollute waters and is found as a contaminant caused by coal barges in the Kahayan River area.
Objective: To determine the reduction of lead (Pb) levels in Baung Fish using Kaffir lime filtrate
Methods: This research uses True Experimental with Post Test Only Control Group Design. The test method is carried out quantitatively. The quantitative test method uses Atomic Absorption Spectrophotometry with a wavelength of 283 nm. Data analysis used ONE-WAY ANOVA.
Results: The results obtained based on quantitative analysis obtained less significant data using kaffir lime filtrate 75% with time intervals of 30 minutes, 60 minutes and 90 minutes with a total decrease in fish 1 at 30 minutes by 0.183 at 60 minutes by 0.086 and at 90 minutes. of 0.113. In fish 2 minutes to 30 decreased by 0.125 at minute 60 by 094 and at minute 90 by 0.365. At the 3rd minute to 30 fish decreased by 0.338 at the 60th minute by 0.080 and at the 90th minute by 0.083.
Conclusion: The administration of kaffir lime filtrate with a concentration of 75% with different time intervals (30 minutes, 60 minutes, 90 minutes) showed that there was no significant effect on reducing lead (Pb) levels using immersion time intervals.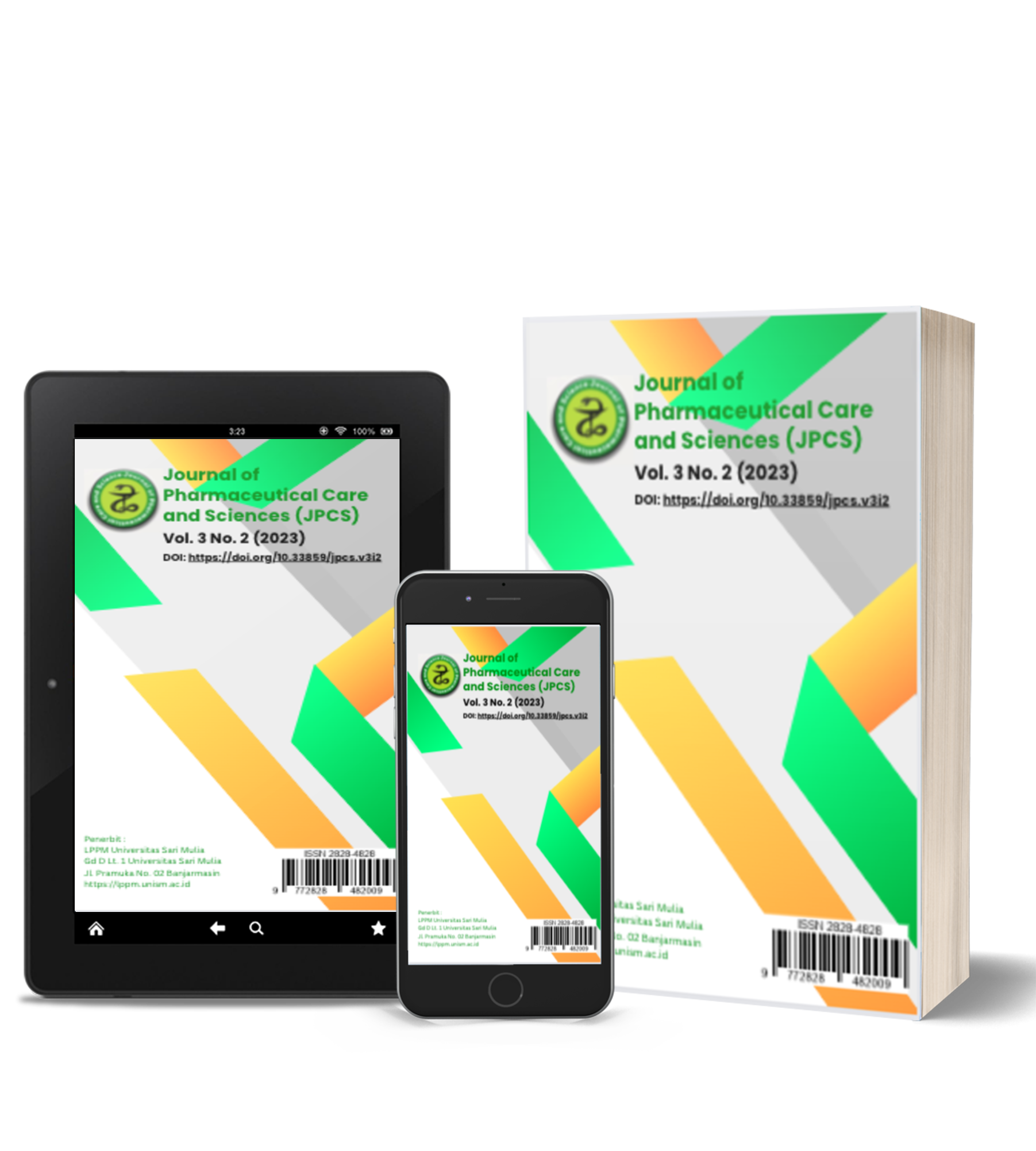 Downloads
How to Cite
Hasanah, H., Rahmadani, R., & Hidayah, N. (2023). Decrease in Lead Metal (Pb) Levels in Baung Fish with Kaffir Citrus (Citrus hystrix) Filtrate: Decrease in Lead Metal (Pb) Levels in Baung Fish with Kaffir Citrus (Citrus hystrix) Filtrate. Journal Pharmaceutical Care and Sciences, 3(2), 130–140. https://doi.org/10.33859/jpcs.v3i2.240