Potential Of Lime (Citrus aurantiifolia) Filtrates To Reducing Ammonia Levels In Patin Fish (Pangasius pangasius)
Potential Of Lime (Citrus aurantiifolia) Filtrates To Reducing Ammonia Levels In Patin Fish (Pangasius pangasius)
Keywords:
Ammonia (NH3), Catfish, Lime, UV-Visible Spectrophotometry
Abstract
Background: The Barito River is polluted due to the disposal of waste from the factory, indirectly affecting the living creatures in the river and its surroundings, one of which is catfish. Catfish is a fish whose consumption potential is quite high in the community, but its utilization is not optimal, due to the presence of a number of urea in meat which is easily decomposed into ammonia, reducing ammonia levels in meat can be done in various ways, namely by using natural ingredients, one of which is lime. which contains citric acid which can reduce ammonia levels.
Objective: This study aimed to examine the potential of lime (Citrus aurantiifolia) filtrate in reducing ammonia (NH3) levels in catfish (Pangasius pangasius).
Methods: This research uses True Experimental with Post Test Only Control Group Design approach. The method used is a quantitative test using UV-Vis Spectrophotometry. Data analysis using Kruskal-Wallis and Mann-Whitney.
Results: The results obtained that all positive samples contain ammonia and lime filtrate has the potential to reduce ammonia levels with a total decrease in concentrations of 25% = 1.36, 50% = 1.01, 75% = 0.69, and 100% = 0 ,19 . The decrease in ammonia levels is due to the denaturation process that occurs due to the citric acid content in the lime filtrate.
Conclusion: Giving lime filtrate with different concentrations, namely, 25%, 50%, 75%, and 100% showed a significant effect on reducing ammonia levels in catfish. And the best concentration for reducing ammonia levels is at a concentration of 100%.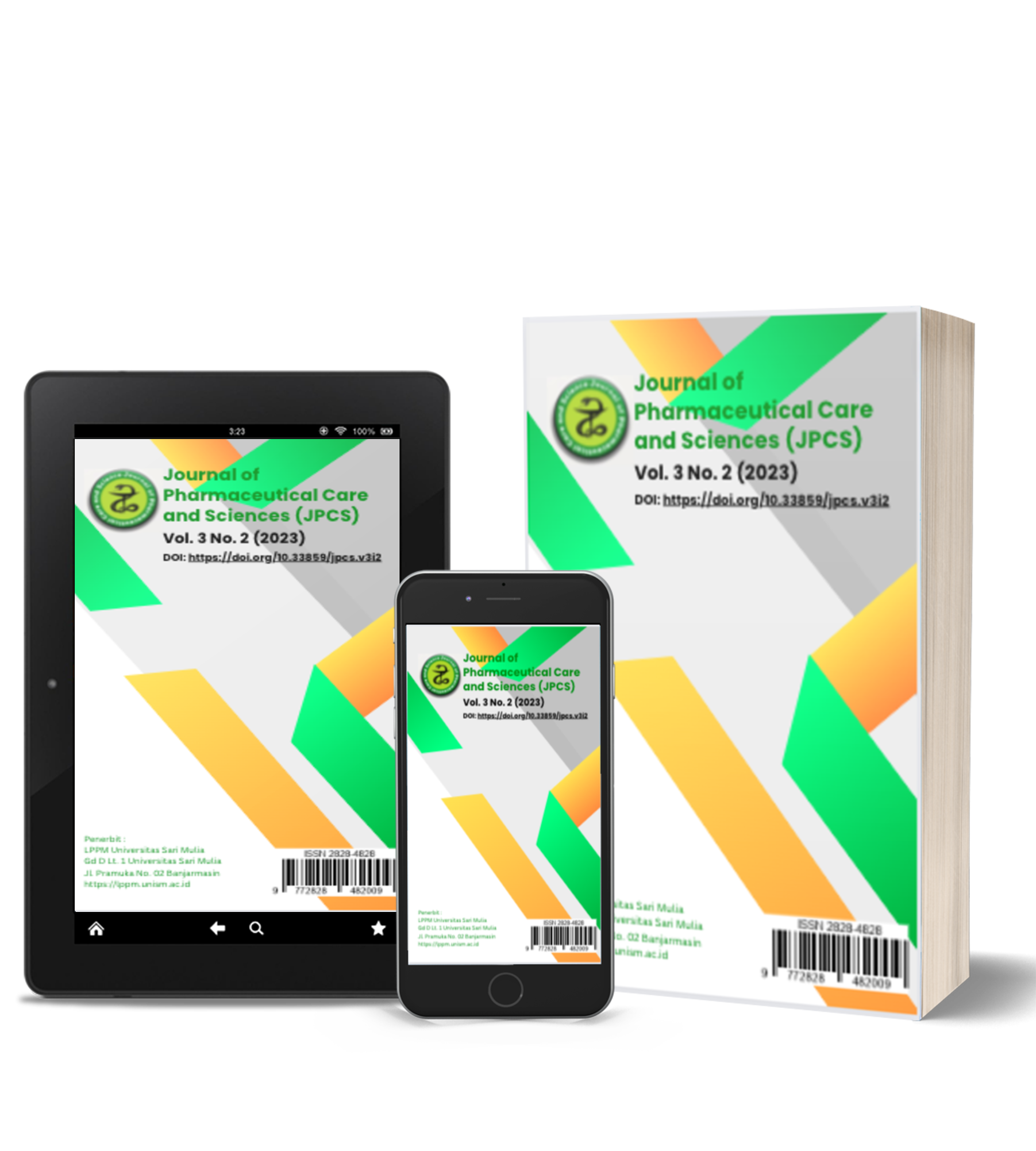 Downloads
How to Cite
Safitri, M., Alawiyah, T., & Nugraha, D. F. (2023). Potential Of Lime (Citrus aurantiifolia) Filtrates To Reducing Ammonia Levels In Patin Fish (Pangasius pangasius): Potential Of Lime (Citrus aurantiifolia) Filtrates To Reducing Ammonia Levels In Patin Fish (Pangasius pangasius). Journal Pharmaceutical Care and Sciences, 3(2), 63–75. https://doi.org/10.33859/jpcs.v3i2.244